We believe in a future where everyone has a real opportunity to lead a thriving life.

CodeYourFuture (CYF) is a UK-based non-profit organisation that trains some of the most deprived members of society to become web developers and helps them start careers in the tech industry.

Volunteer professionals train CYF students in an inclusive, welcoming community. During our rigorous 12-month vocational training programme, students develop their tech and agile product development skills through testing, collaboration and project work.

70% of eligible CYF grads have started tech careers.

Graduates work in established companies like Capgemini, the FT, BBC, STV, Deloitte - and startups like Adzuna, Sensible Object, tlr and WeGotPop.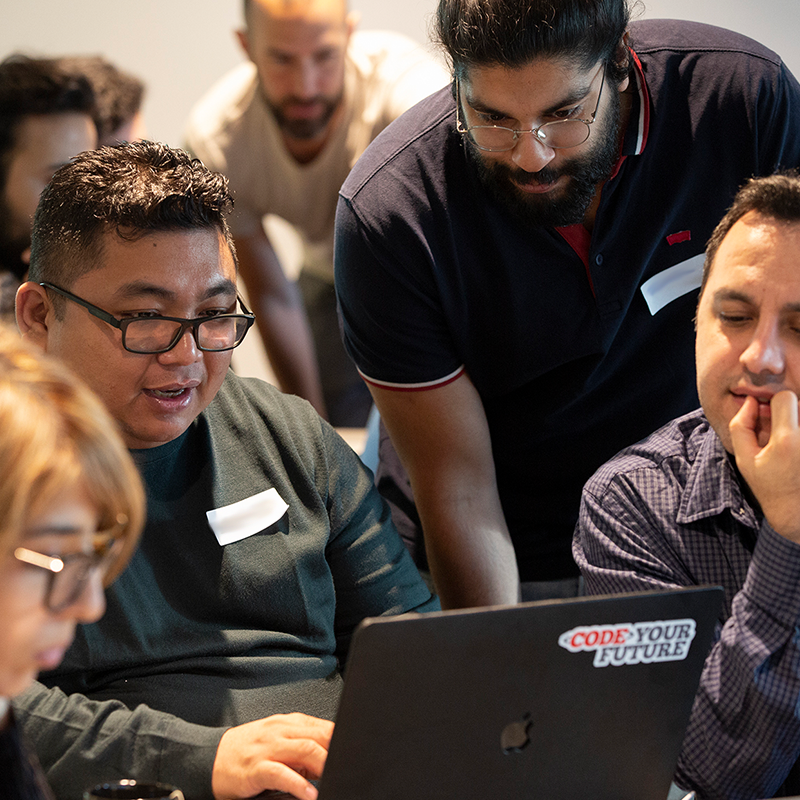 We are generous, friendly and compassionate. We help each other by giving and receiving genuine feedback to help us grow as individuals and as a community.
We are team. We create an inclusive space where we belong and build relationships to support each other. We are grateful for the help we receive.
We encourage and trust each other to promote autonomy, independence and initiative. Our community represents us.
We push each other outside our comfort zones to enable our professional development. We embrace challenges that fulfil our potential.
We promote social mobility ​by creating meaningful change in people's lives. We make a tangible and positive impact on the individuals, companies, and communities we serve.

Proactivity
The community takes the lead and experiments. Self-organised teams run sessions, workshops and events.
Flexibility
We adjust to changes. The impact we generate is our priority. We adapt to our community needs.
Simplicity
Our community speaks simply and acts plainly. We avoid complex processes.
Transparency
We display information and share knowledge. We talk to people in open channels and in group meetings. We minimise direct messaging and private conversations.
Vulnerability
We show openly our weaknesses by encouraging our community to share constantly when they don't know something. It connects us and helps build confidence.
Curiosity
We are driven learners. We are in charge of our growth.
Safety
We take care of each other. We keep each other safe. We make sure that everyone feels safe.